Featuring the best knee massager for pain relief with soft massage airbags and infrared heat.
It provide temporary pain relief and preventive care for your knee within just 10-15 minutes!
It is designed to provide targeted relief and support, this innovative device is based on Infrared Heat Therapy and Magnetic Stone Therapy.
It's soft massage airbags fully wrap around your knee. They are designed to deliver infrared heat to those with muscle aches or tension on their knee joints, ligaments, and cartilage. Furthermore, there is a magnetite addition to alleviate pain and provide relief to the knee.
30 Day return policy & 1 Year Warranty with FREE Shipping Worldwide!
Kneeflow ships via trusted courier companies.



Backed by Infrared Technology
Experience the benefits of healing red light therapy which targets damaged joints and help reduce inflammation on ligaments and tendons within the knee while improving blood circulation to the targeted area.
3 in 1 Therapy
Deeper penetration and faster results to joints, cartilage and other tissue through our breakthrough combination of Infrared heat, light, and magnetic stone therapy.
Portable Design
Find fast relief wherever and whenever you want with our portable design. Use it immediately post high-intensity workout, sports, hiking or even before going to bed for better sleep.
Whole Knee Coverage
With our unique design, the airbag massagers fully wrap around your knee providing complete coverage to affected areas.
Who is it for?
The Kneeflow is perfect for:
Knee pain relief from inflammation caused by osteoarthritis, meniscus & tendonitis issues
Perfect for post surgery recovery
Amazing for athletic recovery post training or workout
Lubricates and heats up the knee joint and helps you get back to running, cycling and hiking
Saves time & money on inferior alternatives
Can be alternatively used for the elbow and shoulder joint as the strap is adjustable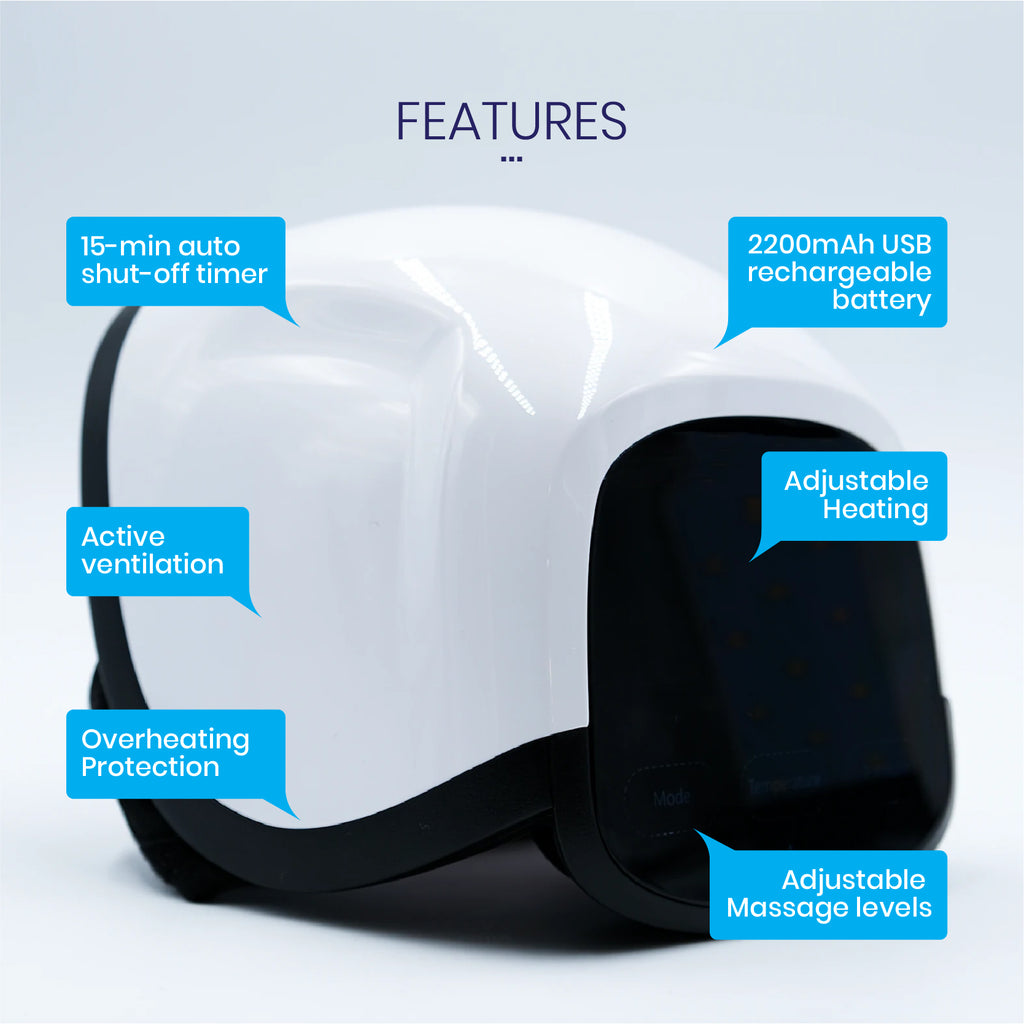 Real Customers Real Results
Nick Alvarez - Former Olympic Hopeful Greco-Roman Wrestling
Because of the red light therapy, heat and massage it helps you to recover faster. Highly recommend it for athletes and for general use!




100% SAFE & SECURE CHECKOUT
Get Instant and Long-Lasting Comfort with Our Unique Knee Massager
Are you sick and tired of suffering each day with sore knees? If you're suffering from knee pain, look no further than our massager to relieve pain. Our best knee massager with heat is the key to your utmost ease and relaxation, as it was developed using cutting-edge technology and is focused on providing targeted joint pain relief around the knee.

On top of that, experience relief from osteoarthritis with our knee massager for pain relief. Targeted heat therapy and magnetic stone therapy work together to reduce inflammation, ease joint stiffness and pain, and alleviate discomfort around your knee. Embrace the soothing comfort and regain your mobility with our innovative solution.
The Ultimate KneeFlow Experience: Unleash Pain-Free Living
Is the key to a life without knee pain something you're ready to find out? With the complete KneeFlow experience, the doors to your potential are wide open. Find out about an innovative approach that goes above and beyond conventional pain management techniques and gives you back the freedom to pursue your own interests. You can take your life to the next level by committing to a pain-free existence.
1. Experience Limitless Comfort and Freedom
Imagine waking up each morning without the familiar twinge of knee discomfort. Imagine yourself doing your favorite things without any trouble and without worrying that you won't be able to. The KneeFlow Experience is your key to comfort and freedom you've never felt before. It's time to bid farewell to pain and embrace a life where possibilities are limitless.
2. Embrace Innovation, Embrace Relief
The KneeFlow Experience is more than just a knee massage machine; it's a gateway to a new chapter of well-being aka the best knee massager in town! Harnessing the latest advancements in pain relief technology, this innovative solution combines targeted heat therapy, soothing massage, and magnetic stone therapy to create a holistic approach to knee care. Immerse yourself in a world of innovative relief and experience the transformative benefits firsthand.
3. Redesign Your Reality with Customized Therapy
No two individuals are the same, and neither are their pain relief needs. The KneeFlow Experience offers you the power to customize your therapy sessions according to your unique preferences. Whether you prefer a gentle, relaxing massage or a more invigorating kneading motion, our intuitive controls allow you to tailor your experience for optimal comfort and results. Take charge of your pain management journey and design a reality where pain takes a back seat.
4. A Journey of Wellness and Empowerment
The KneeFlow Experience is not just about alleviating pain; it's about enhancing your overall well-being and empowering you to live life to the fullest. By providing effective pain relief and promoting relaxation, it enables you to embrace each day with renewed vigour and enthusiasm. Rediscover the joy of movement, reclaim your active lifestyle, and embark on a journey of wellness and empowerment with our knee massager for pain relief.
5. Unleash the Power of the KneeFlow Experience
Are you ready to redefine what's possible? Unleash the power of the KneeFlow Experience and embark on a transformative journey to pain-free living. Embrace innovation, elevate your lifestyle, and experience the freedom to pursue your passions without the burden of knee pain. It's time to break free from limitations and unlock a future where pain no longer holds you back with the best knee massager with heat!