The Kneeflow brace provides mild pain relief and stability to the knee joint.
The Kneeflow Brace features a new and improved massaging gel pad. This gel pad has integrated massage points which help relieve pain in the patella tendon and meniscus. Thin plastic stays are featured on both sides of the brace, helping to retain shape during movement.
Produced from a lighter and more comfortable weave, the Kneeflow is designed to be worn all day. Gradient compression is also engineered into this lightweight knit material to promote blood circulation to the knee joint helping to reduce swelling.
Kneeflow ships via trusted courier companies.



Who is it for?
The Kneeflow is perfect for:
Knee pain relief from inflammation caused by osteoarthritis, meniscus & tendonitis issues
Perfect for post surgery recovery
Amazing for athletic recovery post training or workout
Lubricates and heats up the knee joint and helps you get back to running, cycling and hiking
Saves time & money on inferior alternatives
Can be alternatively used for the elbow and shoulder joint as the strap is adjustable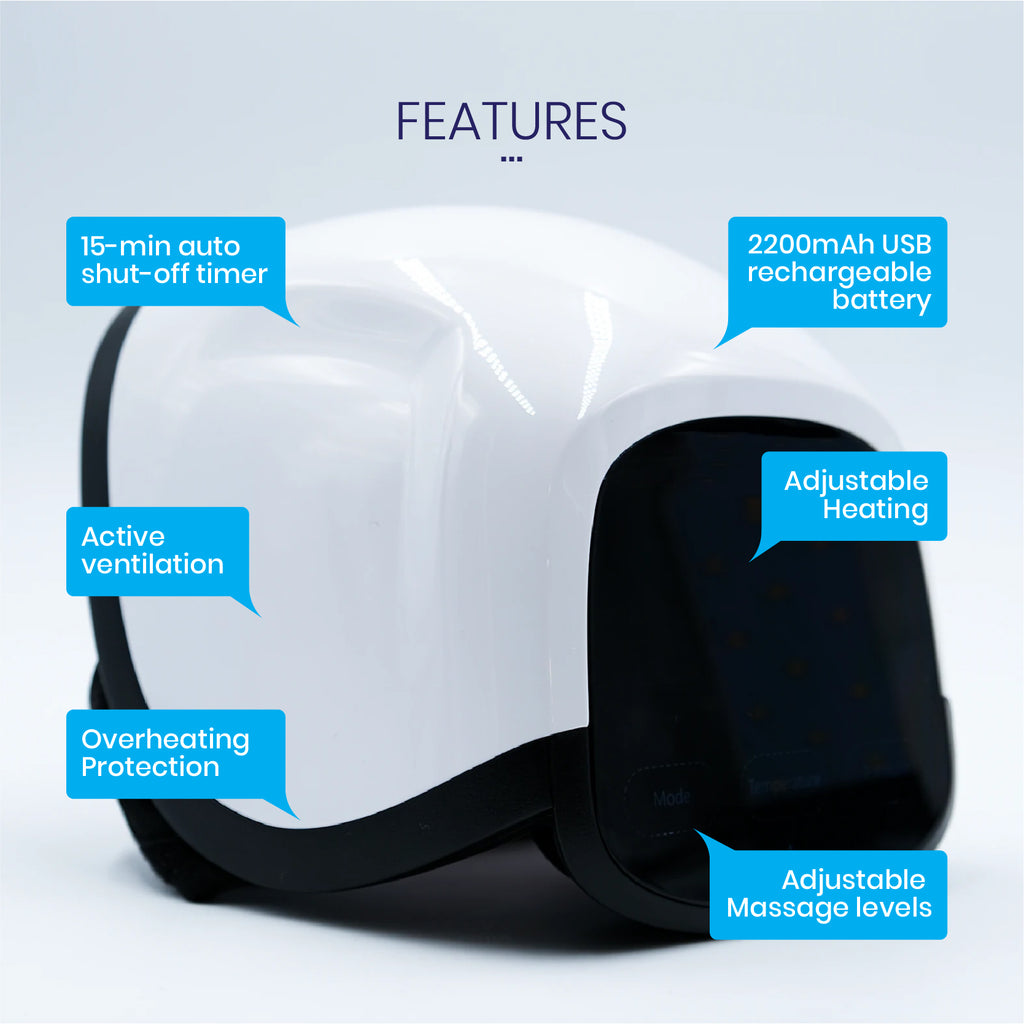 Real Customers Real Results
Nick Alvarez - Former Olympic Hopeful Greco-Roman Wrestling
Because of the red light therapy, heat and massage it helps you to recover faster. Highly recommend it for athletes and for general use!




100% SAFE & SECURE CHECKOUT
Best Knee Braces for Osteoarthritis: People Suffering from Patella and Joint Pain.
A knee brace for running can be a big help when you're trying to keep your knees healthy while running. Wearing your knee brace can support your knee joints, reduce stress on your knees and stabilize your kneecap. It helps relieve pain from knee osteoarthritis, tendinitis, patellar and other conditions.
If you're considering using the best knee brace for running, it's important to choose the right one for your needs. There are many different types of braces available, so it's important to consult with your doctor or physical therapist about which one is best for you. It's also important to make sure that the knee brace fits properly and is comfortable to wear. We are the FlowKnee Family, and we put in a lot of effort to ensure that the products we sell are of the very best quality imaginable in every way.
Those individuals who are looking for a product that combines comfort, support, and style into a single item will discover that the Knee Brace of exceptional quality that we offer is the right option. Knee braces come in a variety of different models. FlowKnee is exactly what most people love while searching for a reliable pain management solution.
KneeFlow brace for running is built with lightweight and breathable material that is comfortable to wear all day long. It features a massaging gel pad with integrated massage points, as well as thin plastic that stays on both sides to help retain its shape during movement. Plus, the new and improved design means it's even more comfortable to wear. If you're looking for the best knee brace that will help you stay active and pain-free, try the KneeFlow Knee Brace!
Knee Braces For Osteoarthritis & Patella!
People who suffer from arthritis will find that the Knee Brace for Arthritis is the most effective treatment option that is currently available for their condition. This is because the Knee Brace supports and stabilizes the knee while also providing pain management. The gradient compression helps to improve blood flow to the knee joint, which leads to a reduction in the edema of that joint.
This is one of the mechanisms that underlie the beneficial effects of the treatment. Because of its lightweight construction and cozy weave, it is convenient to wear for an entire day, making it an excellent choice for individuals who lead active lifestyles. With the added support of the Kneeflow, you'll feel more confident and comfortable during a busy day.
Give yourself the relief you need with the Kneeflow knee brace. Knee Brace support for arthritis is perfect for post-knee surgery recovery and amazing for athletic recovery post-training or workout. The unique design of the KneeFlow hinged brace allows it to conform to your knee, providing support and stability while also allowing you to move freely.
The cushioned pads provide comfort and help reduce pain, while the adjustable straps ensure a perfect fit. Whether you're dealing with chronic pain or just need some extra support during your recovery. Finding the best Knee Braces for Arthritis can be difficult for some people but reviews can help a lot.

Knee Compression Sleeve For Knee Injuries!
If you're an athlete, you know the importance of keeping your knees healthy. You also understand that even the slightest injury can sideline you for weeks, or even months. That's why it's important to invest in a good quality athletic custom knee brace. If you're looking for a high-quality kneecap that allows support and stability, then use a knee brace by KneeFlow.
Made from durable materials, this brace is designed to last. Its black and grey color scheme will complement any outfit, and this makes wearing the brace easy with any color. Whether you're dealing with chronic pain or recovering from an injury, KneeFlow offers functional knee braces that can help you get back on your feet. Choose an athletic custom brace from three sizes to find the perfect fit, and start living your life pain-free.
Hinges Knee Brace for Knee Support & Knee Pain Relief!
Knee pain can cause significant discomfort and interfere with your daily activities. Many different factors can contribute to knee pain, including arthritis, bursitis, gout, and knee injuries.
While some cases of chronic knee pain may require surgical intervention, many non-surgical options can provide relief. If you're dealing with knee pain, get yourself the best knee Brace for pain relief with KneeFlow. Knee braces by KneeFlow are designed to provide support and stability to the knee joint, helping to relieve pain and promote healing. KneeFlow knee braces are available in a variety of styles to suit your needs and preferences.
FAQs
Wearing a knee brace supports the knee joint in addition to stability, both of which can help to lessen knee pain. Another benefit of wearing a knee brace is that it can help prevent knee injuries.
On our website, you can find a wide variety of knee braces that are intended to reduce the discomfort, inflammation, and pain that you experience. These knee supports are available online for purchase. Some of these knee braces are created specifically for specific ailments, such as arthritis or tendonitis, while others are more general purpose.
When choosing a knee brace, it is important to consider your individual needs and preferences. Some factors to keep in mind include the type of injury you are dealing with, your level of activity, and your budget. You may also need to consult with a doctor or physical therapist to understand your needs and recommend the best support braces to provide pain relief.
You must read out all the instructions that are available in the user manual with your KneeFlow brace. In general, it is best to avoid exposing it to conditions that cause extreme heat or direct sunlight and to clean it with soap and water regularly.